Brazil's first air route was inaugurated on February 3, 1927, at 8 AM o'clock. It was known as "Lagoon Line" for linking Porto Alegre, Pelotas and Rio Grande cities, with seaplanes that took off and landed in Lagoa dos Patos lagoon, in Rio Grande do Sul state. The flight lasted about 2 hours and 20 minutes at a cruising speed of 160km/h and an altitude of 20-50 feet. It was also VARIG's first route VARIG operated with Dornier Wal "Atlântico".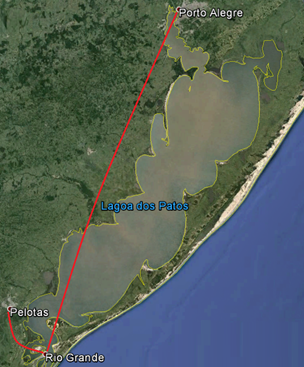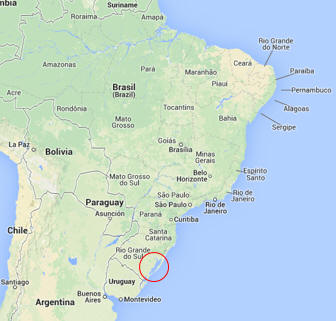 Linha da Lagoa (Lagoon Line)
After the "Atlântico", the route was also operated by Dornier Merkur "Gaúcho". After the "Lagoon Line", VARIG expanded its routes to Rio Grande do Sul's interior cities. In April 1932 VARIG started flights to Livramento, Santa Cruz, Cruz Alta e Santana do Livramento. With more Junkers aircraft, VARIG extended its routes to cities like Uruguaiana, Bagé, Santa Maria, San Ângelo, Rosário, Passo Fundo and Caxias do Sul.
In the 40s, VARIG expanded its routes beyond borders of Rio Grande do Sul state, arriving in cities in Santa Catarina and Paraná states and also São Paulo and Rio de Janeiro. On August 5, 1942 VARIG started its first international route, linking Porto Alegre to Montevideo, capital of Uruguay. Shortly thereafter, the route was extended to Buenos Aires, capital of Argentina.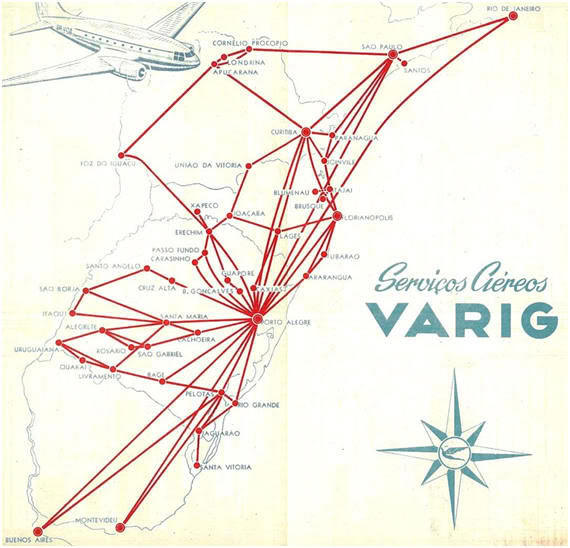 The acquisition of Aero Gal airlines, in May 1952, allowed VARIG extend its lines to the Brazil's Northeast. With Curtiss C-46 and Douglas DC-3 aircraft, VARIG arrived in Vitória, Belmonte, Salvador, Aracaju, Penedo, Maceió, Recife, João Pessoa, Natal, Fortaleza, São Luis and Belém. In July 1953 VARIG inaugurated Rio de Janeiro - Buenos Aires nonstop route. But big news was the first intercontinental route to the USA with the luxurious Lockheed Super G Constellation. The route was inaugurated in July 1955 and South America and USA with the Constellation, on Buenos Aires - Montevideo - Porto Alegre - São Paulo - Rio de Janeiro - Belém - Trujillo - New York - Port of Spain - Rio de Janeiro - São Paulo - Porto Alegre - Montevideo - Buenos Aires route.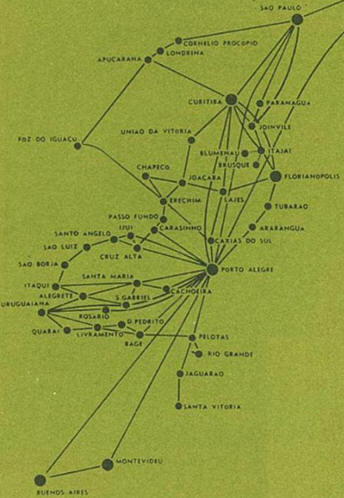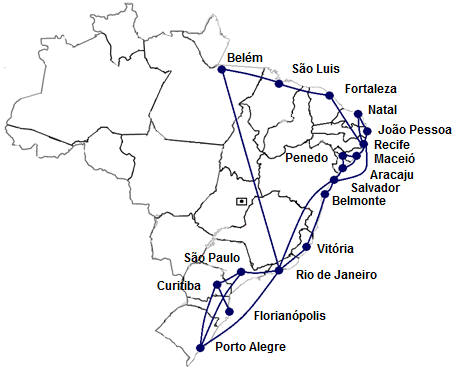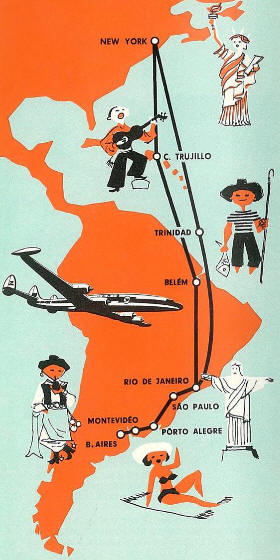 Regional routes / Domestic routes / International routes
Everything changed in September 1959 when VARIG's Caravelle 1, Brazil's first jet, began to operate on Rio - New York route. With jet aircraft, the flight time was reduced from 25 hours to 14 hours. On June 22, 1960 the Boeing 707-441 started to operate this route, making it even faster. Now Rio de Janeiro - New York route was made in just 9 hours and nonstop. Due a reform on Rio de Janeiro airport's runway, the B707 made the route from Brasilia airport temporarily, creating the route Brasilia - New York.
After the acquisition of Real-Aerovias-Nacional airline, in August 1961, VARIG started to operate in various domestic destinations, more than 90 cities in Brazil. In international market, the purchase enabled VARIG arrive in Lima, Bogota, Caracas, Mexico City, Miami and Los Angeles.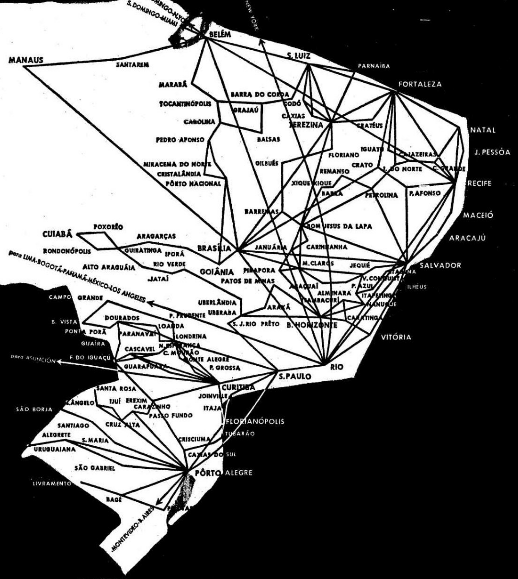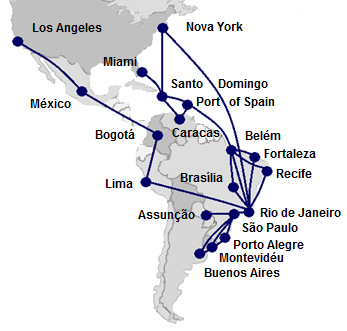 Domestic routes / International routes
In February 1965 VARIG assume Panair's routes to Europe. At that moment, VARIG started fly to Lisbon, Madrid, Monrovia, Sal, Dakar, Beirut, Rome, Milan, Zurich, Paris, Frankfurt, London and Santiago.
Later, in 1968, VARIG expanded even more its international network, inaugurating flights to Copenhagen and Tokyo. The flights were operated to Copenhagen from Rio de Janeiro, with a stop in Rome and flights to Tokyo, also from Rio and stops in Lima, Los Angeles and Honolulu. Subsequently the stop in Honolulu was canceled.
At that time VARIG's intention was to get around the world as airlines as Pan Am. So VARIG's route to Japan was a step in that direction.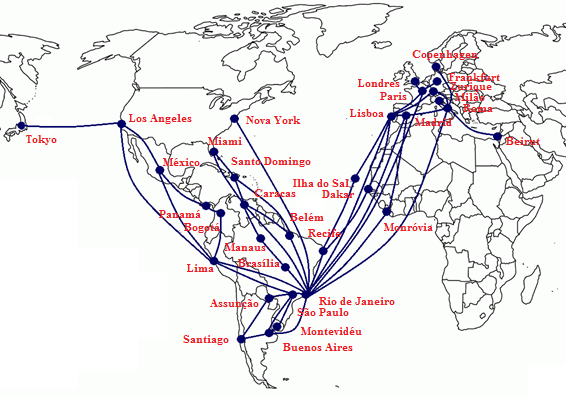 International routes
In the 70s, there was a major change in the Brazilian domestic market with the introduction of jet aircraft, regional routes were abandoned and VARIG began focus only in major cities. Seeing that, Brazilian federal government decided to create SITAR (National Air Transportation System). So, in 1976, VARIG established its subsidiary Rio Sul, which started operating regional routes in Rio Grande do Sul, Santa Catarina, Paraná and Rio de Janeiro states. Now with Rio Sul, VARIG abandoned once the regional routes, thus reducing the number of domestic destinations. However VARIG continued its policy of expansion its international lines and launched flights to Africa and expanded its presence in Latin America, the USA and Europe. In 1970 was inaugurated Rio de Janeiro - Luanda - Johannesburg route.
The purchase of Cruzeiro airline, in 1975, allowed VARIG expand its routes in South America to Bolivia, Ecuador, French Guiana and Suriname.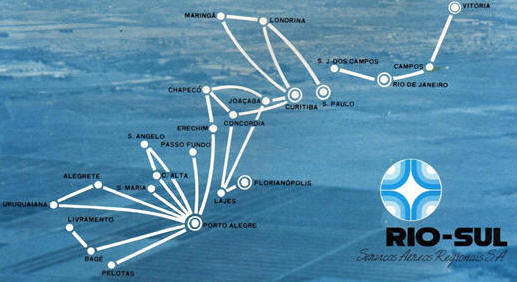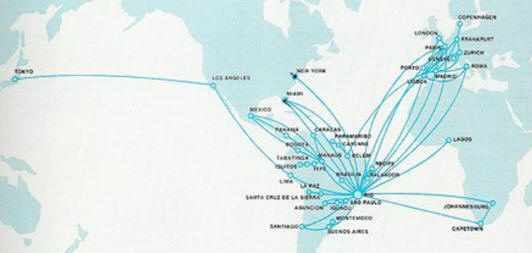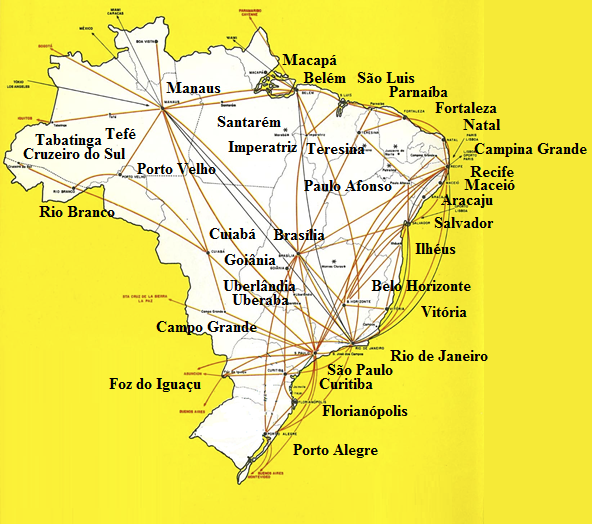 Rio Sul routes / International routes / Domestic routes
In the 80s there was a consolidation of the routes already operated by VARIG. In addition there was a small expansion in the number of domestic destinations, mainly by Rio Sul's expansion, and in international destinations like Iquitos, San Jose, Amsterdam, Toronto and Montreal.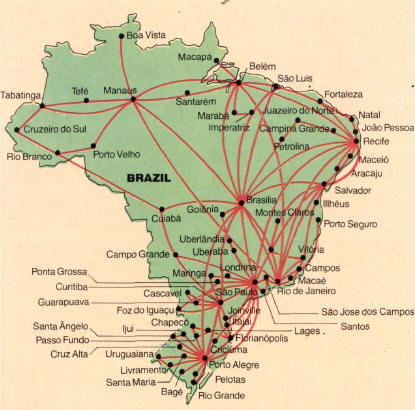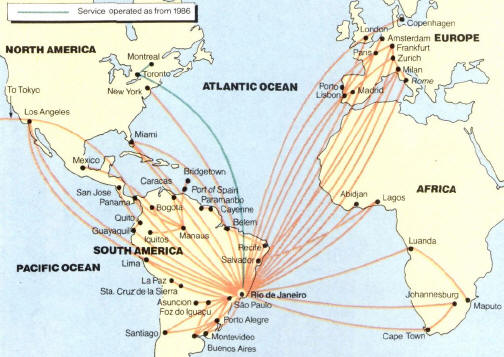 Domestic routes / International routes
In early 90s, VARIG achieved the highest number of international destinations served throughout its history after launch routes to Chicago, Atlanta, Washington, Cancun, Nagoya, Bangkok, Hong Kong and Munich. Rio Sul expanded beyond borders Brazil's south and southeast region and purchased Nordeste airline, in 1995, reaching Brazil's North and Northeast region as well.
Also in 1995, VARIG took command of Pluna Uruguay airline, expanding its route from Montevideo to Punta del Este, Buenos Aires, Asuncion and Santiago.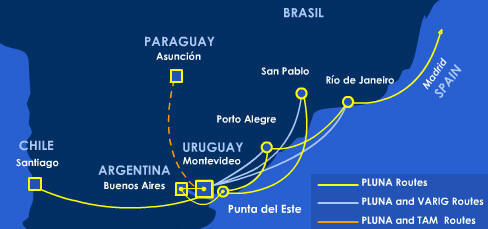 Pluna's route map
Domestic routes VARIG, Rio Sul and Nordeste
International routes
The 2000's was marked by a rationing of domestic and international network. Now that VARIG was part of Star Alliance, the airline could reach over 124 countries with code-share agreements. This allowed VARIG decrease the amount of international destinations, but continued selling tickets for these and many other destinations on flights operated by partner airlines.
In 2003/2004 VARIG merger with Rio Sul and Nordeste, and thus the domestic network was completely overhauled.

Domestic routes / International routes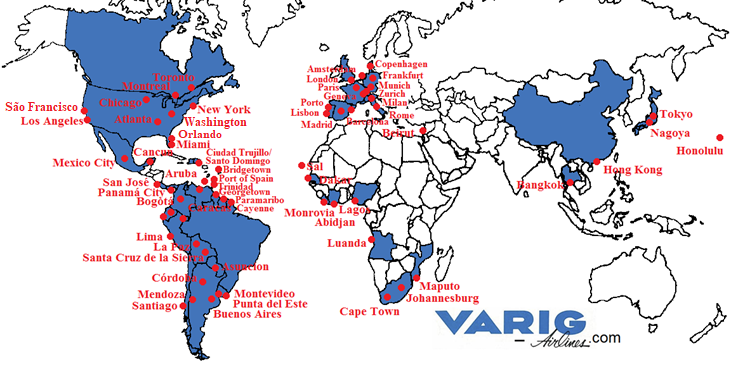 VARIG's international destinations since its foundation