Always thinking on innovation and comfort for its passengers, VARIG was the first Brazilian airline to order a jet aircraft in 1967, the Boeing 707 and Caravelle. The original plan was to use Boeing 707 for international route to New York and Caravelle for major domestic routes. However there were many orders for Boeing 707 and Caravelle arrived first.
Brazil's jet era started on September 1959 with VARIG's Caravelle in Rio-New York route. With jet introduction the flight which previously took about 25 hours was reduced to 14 hours. VARIG was the first airline to operate a pure jet at the Idlewild airport, later named John F. Kennedy. At thtat time VARIG had four weekly frequencies between Rio de Janeiro and New York, two with Caravelle and two with Super G Constellation.
At the beginning Caravelle had a parachute to help landing, an ordinary thing on military aircraft, but it was a problem collecting it at airports. Later reversible turbines were installed, which replaced parachute.
After B707 arrival, Caravelle started operating on domestic routes.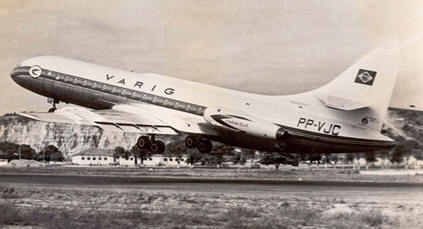 | | |
| --- | --- |
| Operated units | 03 |
| Constructor | Sud Aviation, France |
| Model | Sud Aviation SE-210 Caravelle |
| Engine | two Rolls Royce Avon MK 526 with 4970 Kg of thrust of 12,600 pounds |
| Wingspread | 112,53 feet |
| Length | 105 feet |
| Height | 28,61 feet |
| Cruising speed | 456,10 miles/hr. |
| Flight reach | 1,149 miles |
| Maximum flight altitude | 39,300 feet |
| Cruising radius | 07 h |
| Empty aircraft weight | 51,597 pounds |
| Maximum take-off weight | 95,917 pounds |
| Technical crew | 05 (2 pilots, 1 flight mechanic, 1 navigator and 1 radio telegraph operator |
| Maximum number of passengers | 144 |
| Maximum number of passengers (VARIG's configuration) | 73 |
| Minimum runway length | 3,937 feet |
| Minimum landing strip length | 3,937 feet |