B747-400 aircraft started flying for VARIG on December 1991, initially serving São Paulo-Rome route. PP-VPI was the first B747-400 to be incorporated into VARIG's fleet. Those aircrafts feature winglets in their wing tips, thus reducing aerodynamic friction and, consequently, the fuel consumption.
The second, PP-VPG, was delivered on June 1992 and the third, PP-VPH, on April 20, 1993. With Boeing 747-400 VARIG began flights to Hong Kong and Bangkok, with a stop in Johannesburg. They also operated to Frankfurt, Buenos Aires and Nagoya.
Unfortunately all Boeing 747-400 were returned in a short time due high cost of leasing.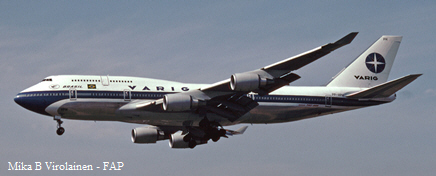 | | |
| --- | --- |
| Operated units | 03 |
| Constructor | The Boeing Company, United States |
| Engine | Four turbines GE CF6-80C2 B 1F with 57,160 pounds of thrust each |
| Wingspread | 211,42 feet |
| Length | 231, 83 feet |
| Height | 63,68 feet |
| Cruising speed | 581 miles/hr. |
| Flight reach | 7,456 miles |
| Maximum flight altitude | 45,100 feet |
| Cruising radius | 14h |
| Empty aircraft weight | 382,410 pounds |
| Maximum take-off weight | 850,144 pounds |
| Maximum landing weight | 630,105 pounds |
| Technical crew | 02(2 pilots) |
| Maximum number of passengers | 660 |
| Maximum number of passengers (VARIG's configuration) | 382 |
| Maximum capacity of fuel tank | 44,774 gallons |
| Normal consumption | 3,213 gallons/hr. |
| Cargo capacity | 136,743 pounds |
| Minimum runway length | 12,467 feet |
| Minimum landing strip length | 6,168 feet |