Convair 240 operated most of VARIG's lines during 50s and 60s. Convair 240 was one of the fastest planes in the world. The exceptional 435 km/h speed was one of the decisive factors in the decision to incorporate them into VARIG´s fleet: the considerable reduction in flight time was a major point in a nation with a territory as large as Brazil´s. VARIG had thirteen of these airplanes, which it flew regularly between the major Brazilian cities, Montevideo and Buenos Aires. Convair 240 was also the first aircraft used by VARIG on "Ponte Aérea" (Air Bridge) Rio de Janeiro - São Paulo.
Unlike Douglas DC-3 and Curtiss C-46 aircraft that were used in World War II, Convair 240 was specially designed for commercial aviation, giving more comfort to passenger as pressurized cabin, flying at high altitudes (with less turbulence) and lower noise. Convair 240 also brought other innovations such tricycles landing gear and reversible propellers. With Convair 240 VARIG inaugurated the first concrete runway of Porto Alegre airport. After this purchase, VARIG's pilots and mechanics went the USA for full aircraft's courses.
After Real-Aerovias-Nacional airlines incorporation, in 1961, VARIG acquired more units of Convair 340 and Convair 440, an improved version.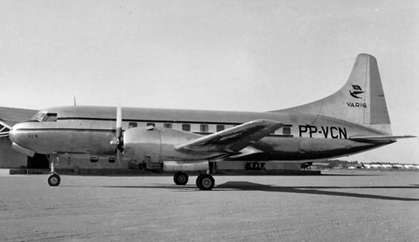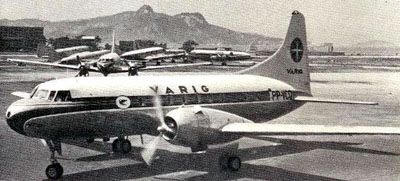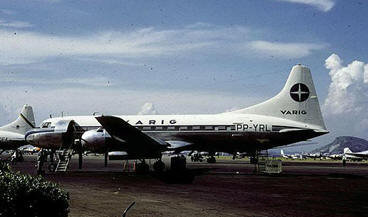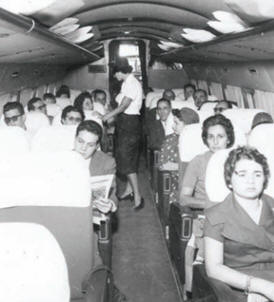 | | |
| --- | --- |
| Operated units | 13 |
| Constructor | Consolidated Voultee Aircraft Corp., USA |
| Engine | Two Pratt & Whitney , R-2800 CB 17 2500 HP |
| Wingspread | 91,76 feet |
| Length | 74,67 feet |
| Height | 26,90 feet |
| Cruising speed | 270,3 miles/h |
| Flight reach | 1,798,95 miles |
| Maximum flight altitude | 30,021 feet |
| Cruising radius | 6hs 30 min |
| Empty aircraft weight | 27,968 pounds |
| Maximum take-off weight | 43,052 pounds |
| Technical crew | 03 (2 pilots and 1 radio telegraph operator) |
| Maximum number of passengers | 40 |
| Minimum runway length | 2,952 feet |
| Minimum landing strip length | 2,952 feet |