Boeing 777 represents another mark VARIG's history. VARIG was the first airline in Latin America to operate this model. The first one, PP-VRA, arrived on November 3, 2001. On November 13, the aircraft made its first flight between Rio de Janeiro and Porto Alegre. VARIG's Boeing 777-200 are equipped with the most modern individual entertainment system with 10 movie, musicals, news and documentaries channels, 12 music channels, 10 games and flight information, in all classes. B777 is also equipped with phone and internet access via satellite. VARIG was the fourth airline in the world to offer Internet onboard.
VARIG's Boeing 777 first regular route was Rio de Janeiro - São Paulo - London - Copenhagen. The second, PP-VRB, flight for the first time on Rio de Janeiro - São Paulo - Paris - Amsterdam route.
The PP-VRA was baptized as "Otto Meyer," VARIG's founder and PP-VRB as "Ruben Berta", VARIG's first employee. It also won a special painting to commemorate VARIG's 75th anniversary.
In March and December 2004 B777's fleet was expanded with the acquisition of more six units.
VARIG's Boeing 777:

Configuration 1: 287 seats
First Class: 6 seats (2 +2 +2 seats per row)
Business class: 49 seats (2 +3 +2 seats per row)
Economy class: 232 seats (3 +3 +3 seats per row)

Configuration 2: 240 seats
First Class: 22 seats (2 +2 +2 seats per row)
Business class: 70 seats (2 +3 +2 seats per row)
Economy class: 148 seats (3 +3 +3 seats per row)

Configuration 3: 276 seats
First Class: 12 seats (2 +2 +2 seats per row)
Business class: 49 seats (2 +3 +2 seats per row)
Economy class: 215 seats (3 +3 +3 seats per row)


No. of units operated: 08
Constructor: The Boeing Company, USA
Engines: Two General Electric 90 - 94B - 93,700 lb. (42.502 kg)
Wingspan: 60.90 m
Length: 63.70 m
Height: 18,50 m
Cruising speed: 950km/h
Range: 11.040Km
Maximum cruising altitude: 13.100m
Maximum takeoff weight: 297.824Kg
Technical crew: 2 pilots
Maximum Capacity: 440 passengers
Maximum Capacity (VARIG configuration): 240-287 passengers
Maximum fuel capacity: 171.000 liters
Minimum runway length: 2,500 m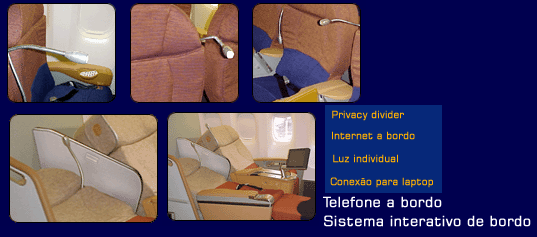 Conforto:

The new VARIG Boeing 777 introduces a new color standard in all classes. This concept was developed by PSD, a British company specialized in interior design. In addition to cabin new visual identity, the Boeing 777 has new seats models.
In VARIG First, seats reclines 180 degrees, which makes them as comfortable as beds. VARIG Business spacious and comfortable seats has assured excellent legroom by increasing distance between the rows. And VARIG Economy has more ergonomic seats and offer rest for legs and adjustable head backboard.
All seats have the most modern and revolutionary onboard entertainment system, AVOD, an interactive audio and video system where the passenger himself chooses the desired type of entertainment. There are several movie titles, audio channels and in real flight status, thanks to Flight Info channel.
VARIG B-777 are equipped with telephone in every seat providing communication quickly, efficiently and with convenience anywhere in the world. Thus, it is possible to make phone calls during flight and call whoever you want.
To use all the features of your laptop and surf for exclusive access to the Internet during the flight, every seat VARIG First and VARIG Business has Laptop socket, so you do not miss even a minute of time on your trip. VARIG First and VARIG Business reading light with adjustable intensity in every seat. In order to increase comfort and privacy at bedtime, VARIG First passengers have at their disposal the Privacy Divider - a small wall between the seats for a much more pleasant and privacy sleep.
On board VARIG B-777 passengers can send and receive emails through their personal computer using the onboard phone system, you may have access to several sites specially selected with content about sports, weather and journalism, that allows you to track international events while on board. With this special service, VARIG becomes one of three airlines in the world to provide Internet access on board an aircraft.
Technology:
Years of research by thousands of professionals in all parts of the world, the B-777 is the most modern commercial aircraft. Its dimensional and aerodynamic characteristics make it extremely spacious and at the same time economical. Featuring fully computerized equipment and the latest generation, B-777 is considered one of the safest aircraft in the world.
Thanks to its unique aerodynamic characteristics, B-777 has great flight autonomy, reaching 14,260 kilometers (7,700 miles) without refueling, this is something like a direct flight nonstop between Los Angeles and Sydney or Los Angeles and Tokyo.
Boeing 777 is a giant of the skies, measuring 63.7 meters long and 60.9 meters of wingspan. The B-777 wings contribute to make it the most modern and aerodynamic model of aviation history. Its forms allow extremely fast takeoffs and stable flight at high altitudes, making travel fast and more comfortable. Another striking feature of B-777 is its spacious interior. The cabin is higher and the distance between the seats is greater. B-777 luggage compartment is the largest available on the market.
Boeing 777 cockpit have six large liquid crystal displays with three CDUs (Control Display Units). The CDUs have color displays that allow pilots quickly assimilate all important information about the flight.
The two new engines GE90-94B developed by General Electric offer an excellent relationship between fuel consumption and power, providing 40% more thrust compared to other aircraft. Both engines develop 94,000 pounds or 42.502 kg thrust.
In addition to all technology and comfort, VARIG's passengers will find aboard the high quality care, sophisticated food, beverages and entertainment.
Quality:
Recognized worldwide for its excellence and quality, VARIG exclusive flight service its also present in B-777.
VARIG First and VARIG Business you will find what is best in world and regional cuisine that comes to you through the Top Chefs program. All dishes are prepared by most renowned chefs in Brazil.
In 2001, VARIG invited Flávia Quaresma from Carême Bistro restaurant in Rio de Janeiro, Alex Atala from DOM Restaurant in Sao Paulo, César Santos from Pernambuco Oficina do Sabor restaurant. In 2002 who signs the menus are Francesco Carli from Cipriani Copacabana Palace restaurant in Rio de Janeiro, Celso Freire from Curitiba Boulevard restaurant and Ignacio Ito from Sao Paulo Nakombi restaurant. In VARIG Economy has varied menus with VARIG's onboard quality service. Moreover all classes has several types of special meals, kits for children, Duty Free and even more entertainment options.
More than technology, flying VARIG B-777 means to be attended by the best and best-trained teams. VARIG crew are prepared to meet all passenger expectations, trying to make each trip enjoyable, pleasant and unforgettable.