FRB-PAR Investimentos S/A
FRB - PAR (Ruben Berta Foundation's Holdings) was founded in 1999 in Rio de Janeiro as the holding the VARIG's Group companies.

VPTA - Varig Participações em Transportes Aéreos S/A
VPTA (Varig Shares in Air Transport) is the holding company that controls Rio Sul, Nordeste and Rotatur.

Rotatur is a charter company. The company use VARIG's fleet and partners as BRA airlines.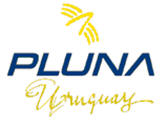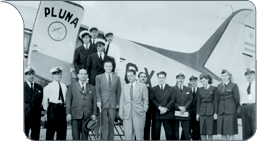 Pluna is the main airline of Uruguay and was founded on November 20, 1936 by brothers Vaeza Márquez and Alberto y Jorge. The company started domestic flights with two-engined De Havilland DH90 between Churrinche and San Alberto. In December 1947 Pluna started its first flight to Brazil linking Montevideo, Punta del Este and Porto Alegre. The first jet was a Boeing 737-200, in 1960.
In 1981 Pluna launched its first flight to Europe, on Montevideo – Madrid route, operated by Boeing 707. Pluna undergone a major transformation in June 1995, when it was acquired by VARIG. The airline gained a new visual identity and fleet with Boeing 737-200 Advanced for regional flights from Montevideo and Punta Del Este to Buenos Aires, Santiago, Asuncion, Porto Alegre, Florianópolis, Rio de Janeiro and São Paulo, and Douglas DC-10-30, for Montevideo - Rio de Janeiro - Madrid route. In 2000 the DC-10 was replaced by the modern Boeing 767- 200ER and in December 2001 the company received its first Boeing 737-300. Then Pluna also changed its Boeing 767-200ER for a Boeing 767-300ER, in 2002, and acquired a Boeing 757-200 and ATR-42- 300 for charter flights.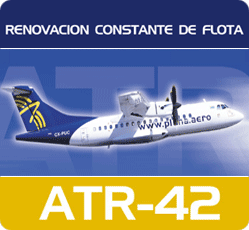 Fleet: 1
Passengers:
47
Maximum takeoff weight:
16.717 kg.
Cruising speed:
352 km/h.
Range:
1.167 km


Fleet: 3
Passengers: 110
Business 8 / Economy 102
Maximum takeoff weight:
53.000 kg.
Cruising speed:
850 km/h.
Range:
2.960 km.
Cargo Capacity:
24,8 m3

Fleet: 1
Passengers: 126
Business 8 / Economy 118
Maximum takeoff weight:
61.235 kg.
Cruising speed:
850 km/h.
Range:
3.700 km.
Cargo Capacity:
30.2 m3


Fleet: 1
Passengers: 175
Business 22 / Economy 153
Peso máx. de despegue:
108.800 kg.
Cruising speed:
960 km/h.
Range:
7.222 km


Fleet: 1
Passengers: 237
Economy Premium 20 / Economy 217
Maximum takeoff weight:
185.045 kg.
Cruising speed:
960 km/h.
Range:
10.000 km.
Cargo Capacity:
114 m3 / 18.000 kg