Elegant, imposing and confidence-inspiring, the three engine JU-52 was VARIG's "jumbo" by the end of 30's and beginning of 40's. It flew only when the number of passengers was sufficient and just some of company's oldest crew members were able to pilot it. Named "Mauá" and registered as PP-VAL, it was a metallic aircraft, covered by wavy duralumin plates. At the time, PP-VAL was one of the speedy aircraft in the fleet and with it VARIG covered its longer lines, still restricted to Rio Grande do Sul.
Its cabin had enough space for allocate passengers luggage, who sit in chairs distributed one by one from each side. The JU-52 also had its own stairway to passengers embarking and disembarking. Before VARIG, the JU-52 was operated by South African Airways with an internal configuration of 17 passengers. VARIG adapted the aircraft with four more seats, increasing the capacity for 21 passengers. Only three people piloted the "Mauá": Harald Stunde, Franz Xavier Greiss and Carlos Ruhl.
After an accident close to Porto Alegre, the aircraft was retired from service.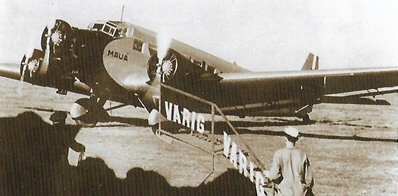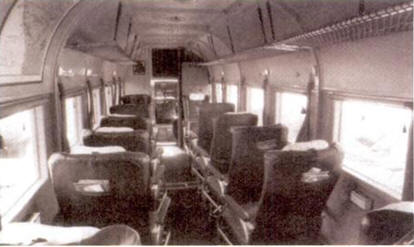 | | |
| --- | --- |
| Operated units | 01 |
| Constructor | Junkers Flugzeu-und-Engineenwerke A.G., Germany |
| Model | Junkers JU-52/3m |
| Serial number | 4058 |
| Engine | Three BMW Hornet of 600 C.V. each |
| Wingspread | 95,96 feet |
| Length | 62 feet |
| Height | 14,76 feet |
| Cruising speed | 149 miles/hr. |
| Flight reach | 807 miles |
| Maximum flight altitude | 17,061 feet |
| Cruiser radius | 04 hs |
| Empty aircraft weight | 11,785 pounds |
| Maximum take-off weight | 20,286 pounds |
| Technical crew | 03 (1 pilot, 1 radio telegraph operator and 1 flight mechanic) |
| Maximum number of passengers (original configuration) | 17 |
| Maximum number of passengers (VARIG's configuration) | 21 |