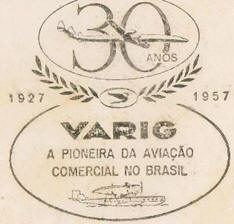 In 1952 VARIG bought Aero Gal, which enabled VARIG to expand its lines to Brazil's northeast, serving also Vitória, Salvador, Maceió, Recife, João Pessoa and Natal. In 1953 the line to Montevideo was expanded to Buenos Aires, VARIG's second international destination. The first flight took off on 30 June, on Rio de Janeiro - Sao Paulo - Porto Alegre - Montevideo - Buenos Aires route, operated with Curtiss C-46 three times a week. At that time the flight lasted about seven hours and ten minutes.
In 1953 VARIG made a complete restructure after received government permission to operate flights to the United States. VARIG ordered Convair 240 and four-engine Lockheed Super G Constellation. Convair 240 was the fastest aircraft at that time and would complement the flights made by Constellation. VARIG also created a sophisticated high quality on board and ground service. On July 28, 1955 VARIG's first flight to New York took off. Initially were two weekly flights that departed from Rio de Janeiro to New York, with stops in Belém, Port of Spain and Santo Domingo. The flight also proceeded to south, from Rio de Janeiro to Sao Paulo, Porto Alegre, Montevideo and Buenos Aires.

For the first time VARIG hired female flight attendant. The Constellation had beds and was not appropriate women and children with pajamas be cared by men. The comfort and on board service of VARIG's Constellation were incomparable and made the airline famous worldwide. The Super G Constellation had 15 seats in Tourist Class in the front of the plane 3+2. Two toilets behind, followed by 28 First Class seats arranged in four rows, 2+2. Then there was a living room with rotating seats. And then more 11 First Class seats. VARIG's kitchen had cook from The Russian Royal Family and, for many people, VARIG's food was better than any restaurant in Brazil.
To maintain its position as a pioneer and stay ahead of its competitors, VARIG ordered new Boeing 707 jet, in September 1957, and Caravelle jet in October. Brazil's first jet aircraft arrived in September 1959, it was VARIG's first Caravelle, immediately used on Rio – New York route. VARIG was the first airline in the world to operate a pure jet at JFK airport in New York. With Caravelle, the flight between Rio de Janeiro and New York was reduced from 25 hours to 14 hours. Nevertheless, Constellation still shared the route with Caravelle. The route was done twice a week with Constellation and twice a week with Caravelle, a total of four weekly frequencies.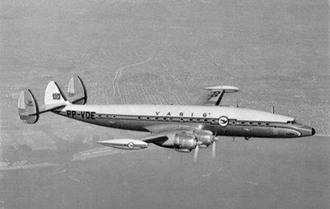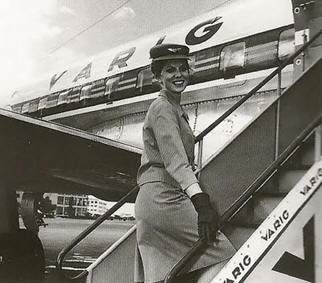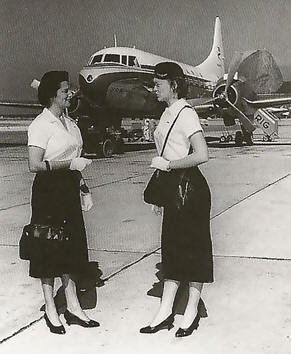 On board VARIG's Constellation: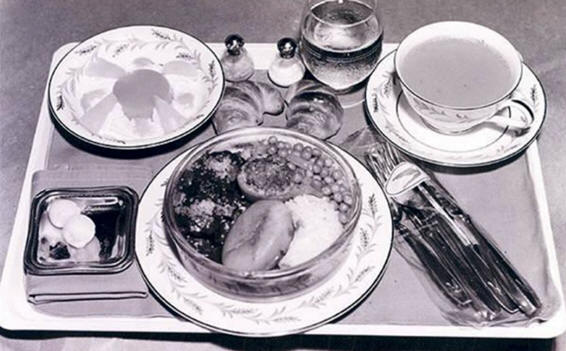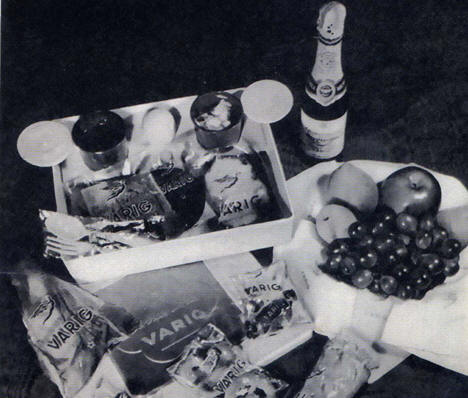 Meal was served in Japanese porcelain Noritake
Contellation's Menu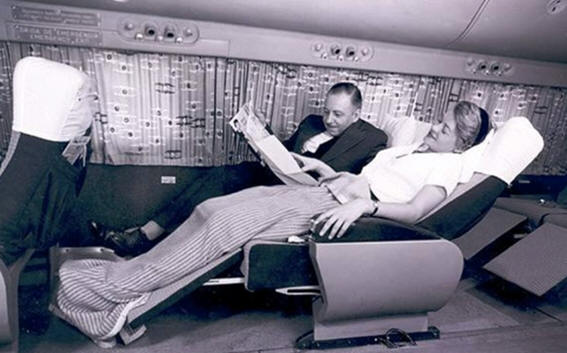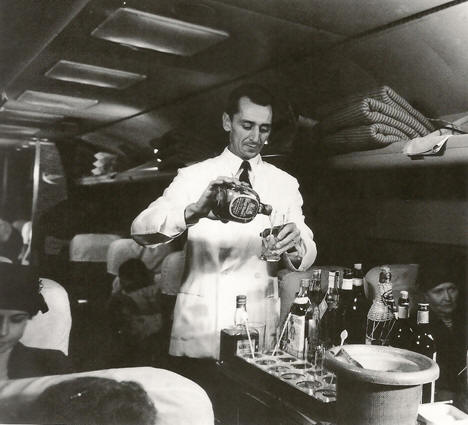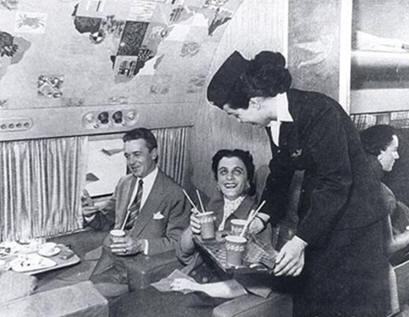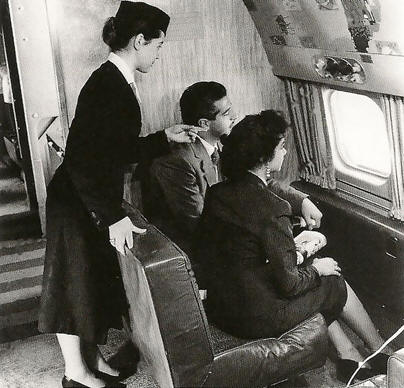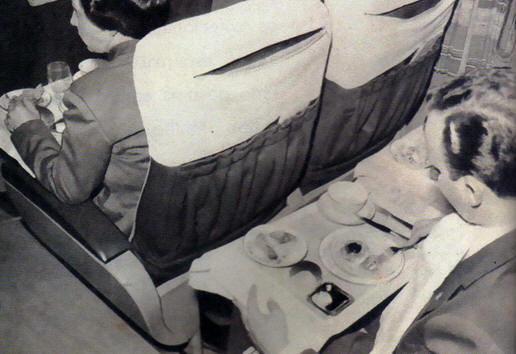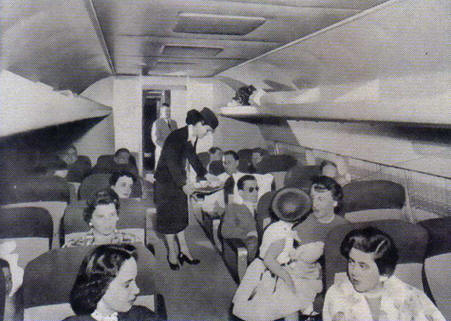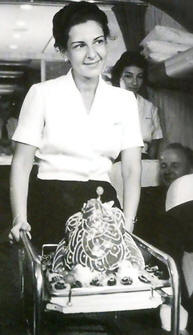 50s
Fleet:
1xCaravelle 1
5xConvair 240
14xCurtiss C-46
23xDouglas DC-3
5xLockheed L1049G
TOTAL: 48
President:
Rubem Martin Berta
International Destinations:
Montevideo, Buenos Aires, Port of Spain, Santo Domingo, New York
Domestic Destinations:
Porto Alegre, Florianópolis, Curitiba, São Paulo, Rio de Janeiro, Vitória, Belmonte, Salvador, Aracajú, Penedo, Maceió, Recife, João Pessoa, Natal, Fortaleza, São Luis, Belém
Regional Destinations: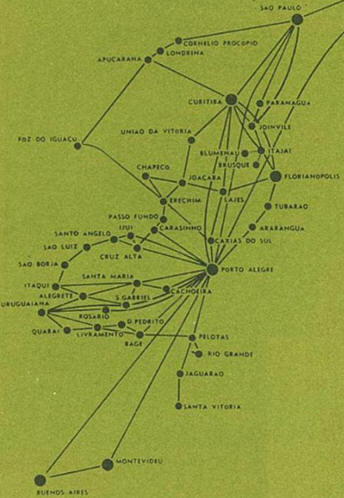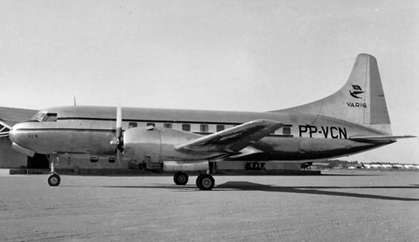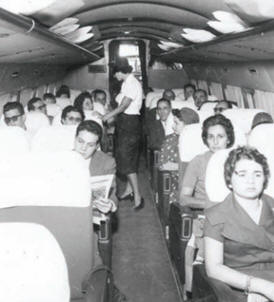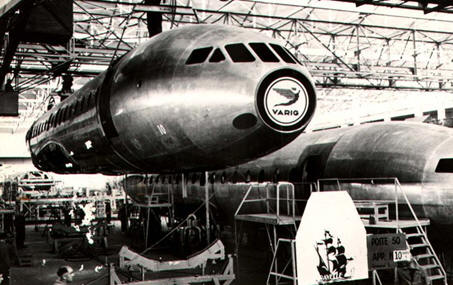 Convair 240 / Caravelle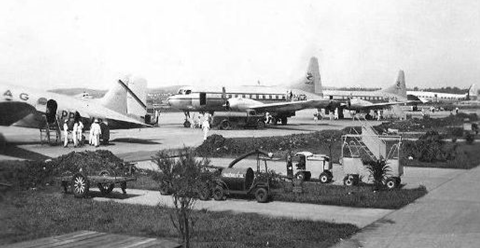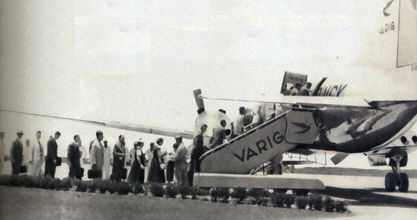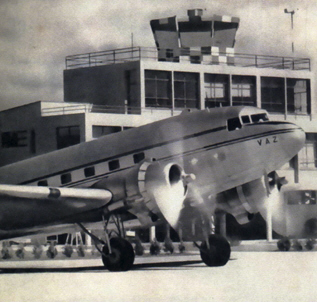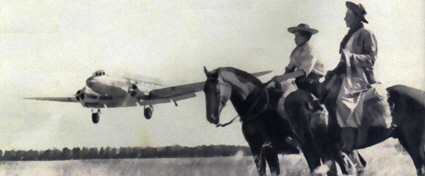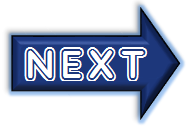 IN FOCUS: Varig VS. Real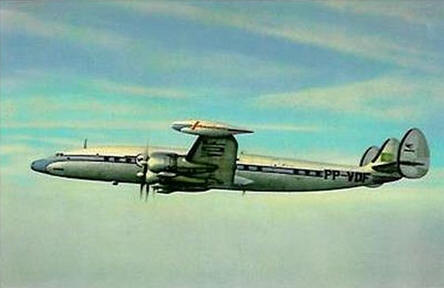 Since July 1955 VARIG were focused on its more glamorous route linking Rio de Janeiro to New York. But the company had two main competitors: Pan Am and Real. Pan Am was simply the largest and most powerful airline in the world and to compete with her VARIG knew that it needed perfect service on ground and on board. Real was newbie and started international flights to Los Angeles and Miami, after buy Aerovias. Real called passengers attention with below average tariffs, but the dispute was best remembered who had the most modern aircraft.
Initially VARIG order was three Lockheed L1049E, known as Super E Constellation. But the company changed to the latest version, Lockheed L1049G or Super G Constellation.
After that Real acquired Locheed L1049H version and put in large letters "Super H Constellation". So people thought that Real's Constellation was more modern than VARIG's, because the letter H comes after G in the alphabet. But in fact, L1049H was nothing more than a convertible version of L1049G. The convertible version allowed the airline to quickly adapt the aircraft to carry cargo or passengers. Apart of this difference, L1049G and L1049H were identical and one wasn't more modern than the other.
However, shortly after, VARIG received more three Lockheed L1049G. This time the L1049G were equipped with wing tip tank (extra fuel tanks). With these extra fuel tanks, Super G Constellation could fly from Rio de Janeiro to New York with only one stop. So VARIG had the idea to paint in these tanks in red "Super Intercontinental", and the letter "I" was painted quite large and anyone who looked far read "Super I", then thinking that VARIG's Constellation should be more modern than Real's.
In 1961 VARIG bought Real and started to operate both Super G Constellation and Super H Constellation.