"Brazilian star in the blue sky. Lighting from north to south. Message of love and peace. Jesus was born. Christmas arrived. Santa Claus flying jet across the sky. Bringing a Christmas full of happiness. And full of prosperity new's year. Varig Varig, Varig."

If you lived in Brazil on the 60s, 70s, 80s, 90s and 2000s probably heard this song at the TV or radio. This jingle was created in 1963 by Gaetano Zamma, member of São Paulo Bossa Nova group, with Johnny Alf , Agostinho dos Santos and Maysa. He composed about 150 songs, but Varig's christmas jingle is his best known song. It was originally recorded by Clélia Simone. The lyrics suffer a changed from the original, the verse "Star of the Americas" was changed to "Brazilian star".
But before the 60s, before television, VARIG was already doing advertising. In 1929 the company used its aircraft Klemm L- 25 to make advertising flights within Rio Grande do Sul state. Later VARIG also used radio to announce their new routes and aircraft, and exalt its excellent service board.

It was in the 50s that VARIG's advertisements become more frequent and gained more visibility. It was in this decade that VARIG become an international airline, after launch flights to Montevideo, Buenos Aires and New York.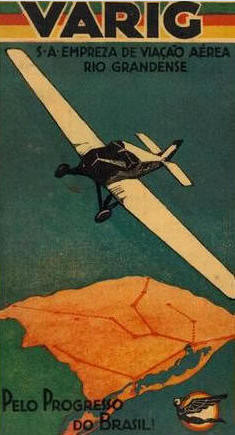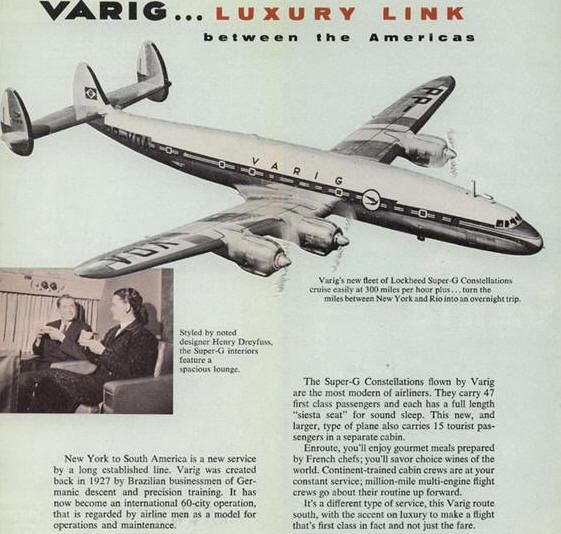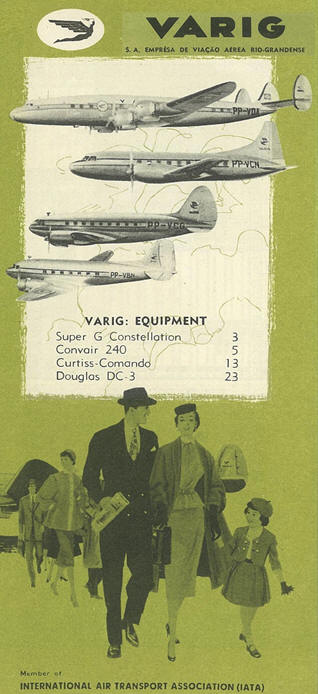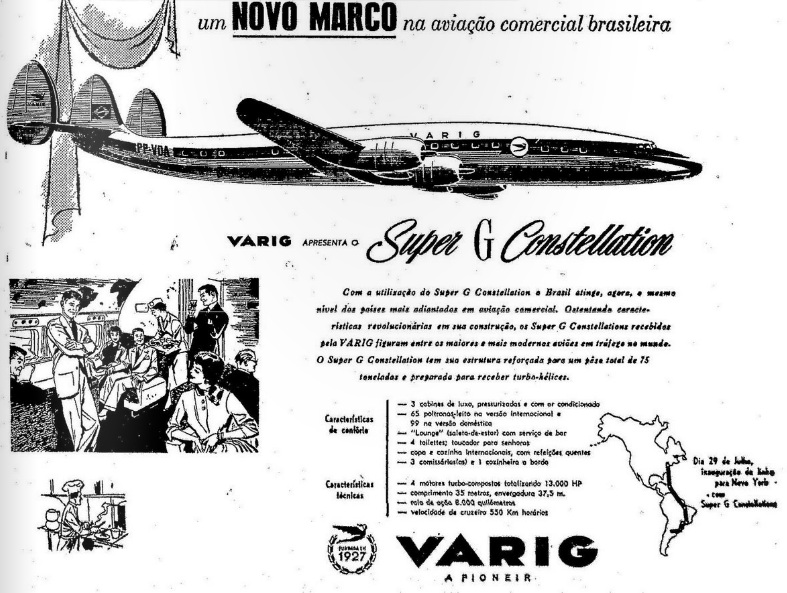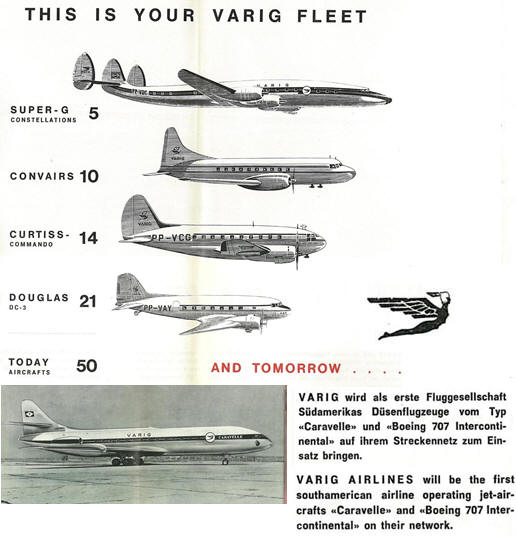 In the 50s, VARIG expanded its flights to Brazil's Northeast and North region

"To Porto Alegre, always fly by Varig. With the best on board service, the traditional pioneer's courtesy. The best time table and the most modern aircraft. Every day, many times a day a VARIG's flight to Porto Alegre are at your disposal.
From south to north with Super 46C reduced fares, Constellation luxury or Convair from Varig."

In 1959 VARIG launched the jet age in Brazil, with the arrival of Caravelle 1

"Varig. Starts in Brazil the pure jet era. Flying with the Caravelle. The Caravelle with reversing reactors is a finding of French engineering. The wings are free to cut the space. With great speed and reactors in the fuselage, the noise is too far back. The silence is absolute, there's no vibration. Varig, also the pioneer in Brazil in the jet age."
Soon after Caravelle's arrival, VARIG brought to Brazil the Boeing 707 jet in 1960

"The Boeing jets still in front. Two hundred and fifty Boeing are serving twenty-two airlines, the best of America and Europe. Built to lead for many years, Boeing jets currently carrying over 32,000 passengers per day. The Boeing jets are the most experienced worldwide, for this reason were preferred by Varig. Nonstop and faster to New York.
Varig to North cities. Six flights per week with luxury Super Constellation. In the ultra-modern four-engine Varig's aircraft the flight is faster and more comfortable. With the same Convair's fare you fly to Recife, Natal, Fortaleza, Sao Luis and Belem by luxury Super Constellation with the best in-flight service and Varig's traditional courtesy."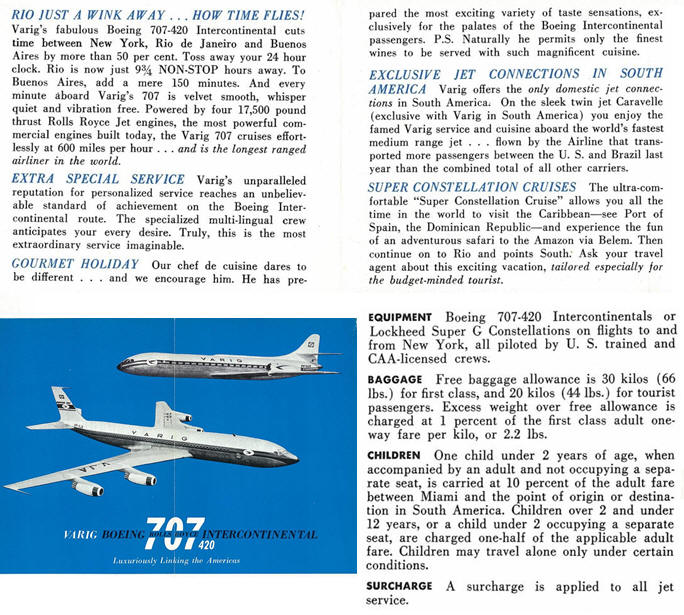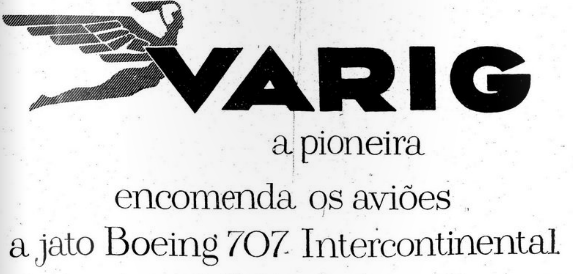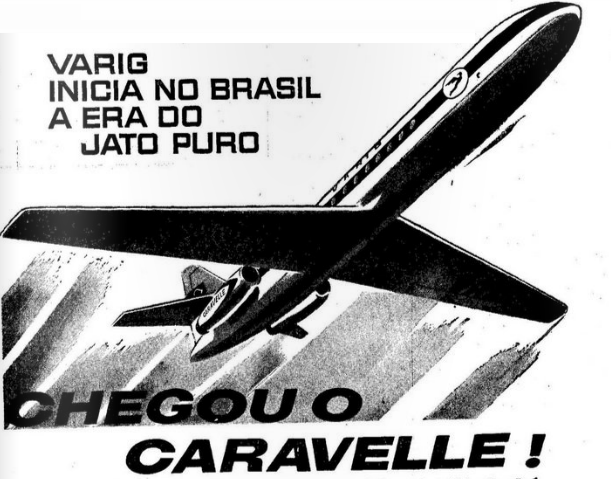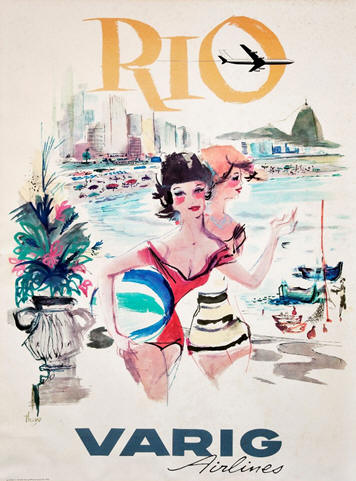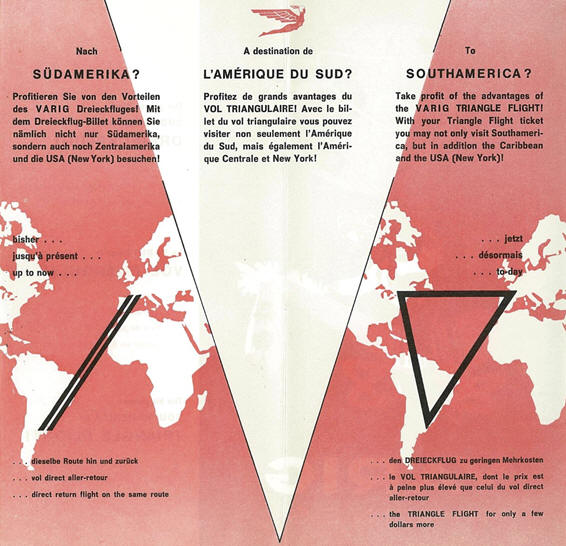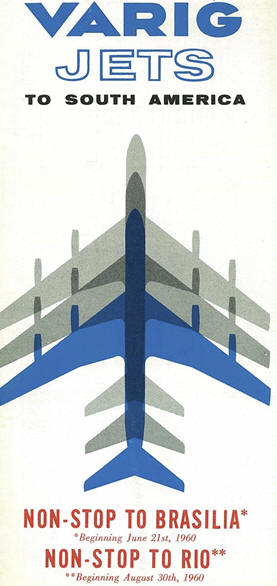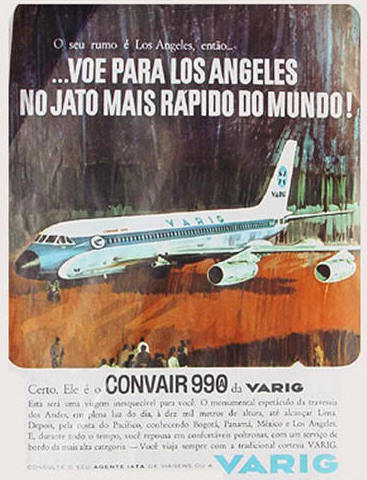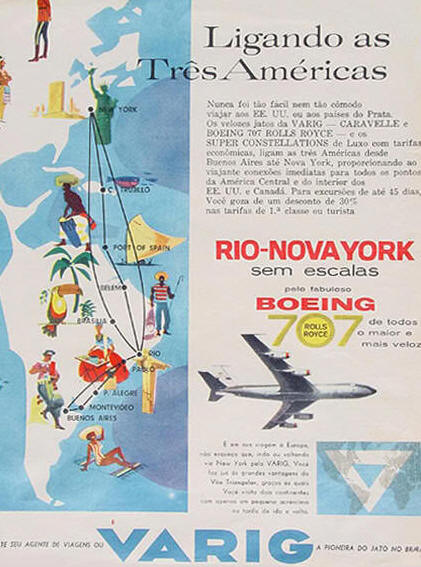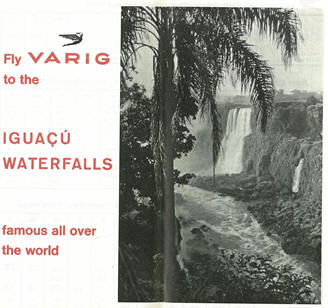 The 60's was VARIG's marketing golden age. Its advertising on television became known throughout Brazil with famous jingles like Estrela, Seu Cabral and Urashima Tarot. VARIG's TV commercials also became very famous among children by being made as cartoons. The great expansion in marketing was related to VARIG's exponential growth in the 60s, flying to over 90 domestic destinations, almost all South America, Mexico City, USA, Europe, Middle East and Japan.
After purchase Real-Aerovias-Nacional, VARIG expanded its domestic and international routes and received new Convair 990A and Electra II aircraft

"It is fast as a jet, silent as a jet. And it's 20% cheaper. It is the Electra II. Varig's Electra II. The largest and the fastest jet propeller."
"Now Caracas, Miami and New York. New Varig's service with the Caravelle. Outside, over 10,000 meters the blue cold from high altitudes. Inside the warm comfort. Varig's traditional courtesy"
In 1965 VARIG assumed Panair's routes to Europe. Initially, aircraft did not have enough range to make flights to Europe nonstop. Most flights to Europe made a stop in Lisbon. To promote its flights to Lisbon, VARIG commissioned a jingle to composer Archimedes Messina. Called "Seu Cabral" (Sr. Cabral), the song alludes the Brazil's discover and featured the voice of the Portuguese singer Hilda Castro, who was on tour in Brazil. The jingle was released in October 1967 on radio and soon after in TV, in 1969. The song was so successful that the following year turned into a Carnival song.
Sr. Cabral was navigating when someone soon screamed:
- Land in sight!
Brazil was discovered. The crowd screamed Welcome Sr. Cabral!
- Write there Caminha to our beloved King that this land is beautiful and generous, with very kind people
But Cabral felt in the chest a really strong missing
- I'll return now to Portugal, I want to go, by Varig.




With the great international expansion, VARIG's commercial were also launched in other countries and in other languages like English and Spanish.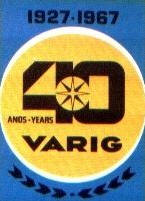 1967: VARIG 40 years
>> "Forty years of victories through the air Varig, Varig, Varig. Forty years of progress nonstop. Varig, Varig, Varig. It is Brazil's flag always flying Varig, Varig, Varig. Always the first, the pioneer, Varig, Varig, Varig."

After the launch of the Japan's route and the success of "Seu Cabral", VARIG asked Messina another jingle to promote Rio - Tokyo flights. Based on the famous Japanese legend the "Urashima Taro" was created, sung by Rosa Miyake. Rosa recorded a version in Portuguese and one in Japanese. Initially, the jingle was released on radio in 1968, then in film and finally in a TV commercial. As "Seu Cabral", "Urashima Taro" also became a carnival song the following year. The legend of Urashima Taro tells the story of a Japanese fisherman who saved a turtle that was being abused at the beach. The next day, a large turtle approached him and told that the little turtle he saved was the daughter of Sea's Emperor. As thanks, allowed him to climb on his back and took him for a ride in the sea. There he found the emperor and his daughter, who was now a beautiful princess. Although happy, he began to miss their homeland and asked to return. But before leave, he received an ark from the princess, with the promise to only open when he was very old. Upon arriving in city Urashima Taro found that three hundred years had passed since the day he gone. Overcome with sadness, opened the ark. His body become very old and from the sea came the voice of the princess telling him that in the ark were all his years.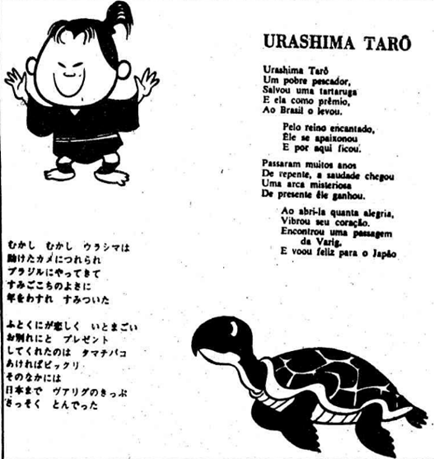 Urashima Taro, a poor fisherman. Saved a turtle and as an award, took him to Brazil. For the enchanted kingdom he fell in love and remained here. Many years passed, suddenly he started missing. And a mysterious ark as a present he won. When he opening it what joy, experience his heart. He found a Varig's ticket, and flew happy to Japan.

Another famous commercial from the 60s was the special new year, with all VARIG's characters.