HOW WAS TO FLY IN THE 1930s?
In the 1930s Brazilian aviation entered the age of land planes. VARIG was responsible for building the first airport in Rio Grande do Sul. Even so, Brazil still experiencing a "heroic" phase, where aviation in the country was in early stage. At that time most of aircraft operated in Brazil were of German origin and the difficulty began with the language, because everything was in German.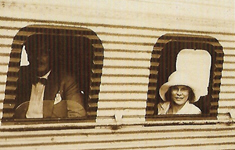 The flight was all visual, following references in the ground, where the name of the cities written in the roofs of the railway stations helped very much. When the weather prevented visual navigation, the flight went almost blindly: the pilots were guided by a compass and a pocket watch. The commander Franz Xavier Greiss used techniques to orient himself when visibility was zero. Greiss hung her head out of the cabin to smell the air. If he could smell charcoal, he knew he was flying over the mines of Arroio dos Ratos or Butiá. Again, on a flight to Uruguay, he saw a pasture with cattle. He concluded that the route was right and the landing field was near, as the cattle continued to graze quietly, a sign that was accustomed to the noise of the plane.