On July 1974 first wide-body jets DC10-30, PP-VMA and PP-VMB, started operating in VARIG's long distance international lines. Those aircrafts represented, at the time, the most sophisticated technology available concerning propulsion, aerodynamics, framework, onboard electronics and flight control systems, besides luxury and comfort. Together with other wide-body aircrafts, those DC-10's had operated major VARIG's long distance international lines in 70s, 80s and 90s. The first VARIG's DC-10 flight was on Rio de Janeiro - New York and Rio de Janeiro - Lisbon - Frankfurt - Copenhague route.
Along with DC-10, VARIG launched new crew uniforms and new aircraft interior layout, with orange and yellow - following the fashion of that time. The PP-VMB and PP-VMD were sold in 1998 and PP-VMA in 1999. The PP-QMV flew for VARIG throughout its career, primarily transporting passengers and then cargo. It was dismantled in July 2002.
On July 31, 1980 VARIG received the first DC-10-30 from a new order of six units, PP-VMT. Followed by PP-VMV and PP-VMU in September and PP-VMW in November. PP-VMY arrived in April, 1981 and PP-VMX in June. PP-VMT and PP-VMU flew for VARIG throughout career. The PP-VMW was sold in 1994 and the PP-VMV in 1999. The PP-VMY and PP-VMX left and back to VARIG's fleet many times and definitely left the fleet in 1999, when they were sold.
In 1994 PP-VMD received a special paint related to Soccer World Cup and brought back the Brazilian champion team.
Late 80s VARIG also began operating DC-10 cargo version, known as DC-10-30F. Until late 90s, all passenger DC-10-30 were retired, remaining only freighters. Those followed in VARIG's fleet until 2000, when these aircraft were transferred to Varig Log.
Other VARIG's DC-10:
- From Air Canada: PP-VMO, PP-VMP (returned in 1980)
- From Singapore Airlines: PP-VMR (sold in 1983), PP-VMS (sold in 1992), PP-VMZ (sold in 1992)
VARIG's DC-10-30 internal configuration:
1st - 70s: 241 seats
First Class: 30 seats
Economy Class: 211 seats
2nd - 80s: 232 seats
First Class: 20 seats
Business Class: 35 seats
Economy Class: 177 seats
3rd - 90s: 223 or 231 seats
First Class: 12 seats
Business Class: 49 or 38 seats
Economy Class: 162 or 181 seats
Other three class configuration: 220, 235, 237, 256 or 258 seats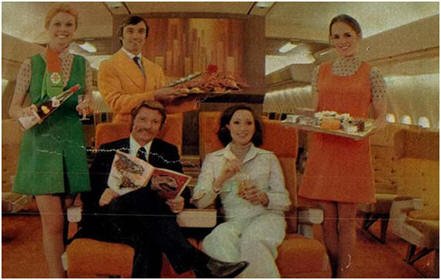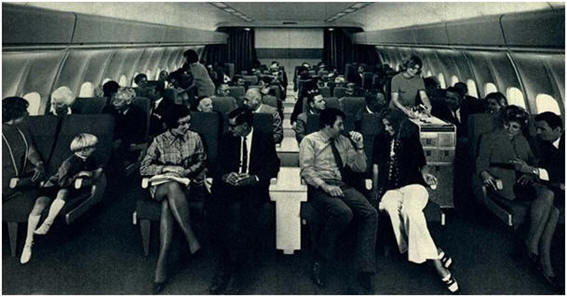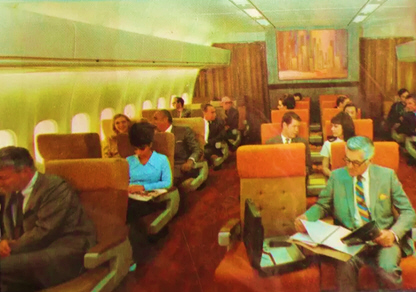 First Class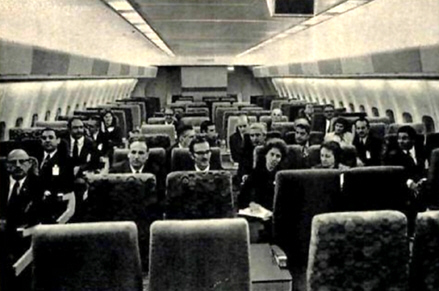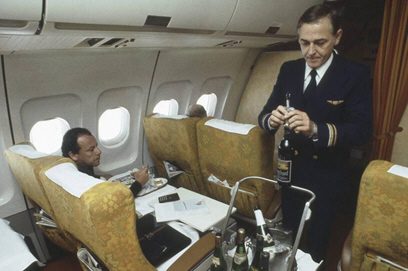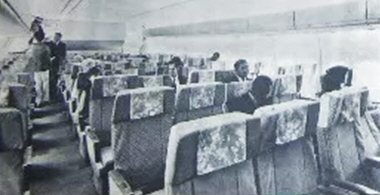 Economy Class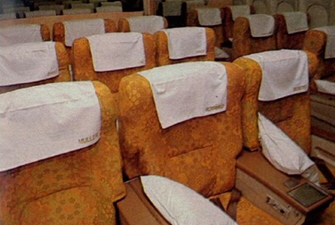 Business Class
| | |
| --- | --- |
| Constructor | MC Donell Douglas Corporation, United States |
| Operated units | 15 |
| Engine | Three GE CF6-50 with 51,000 pounds of thrust each |
| Wingspread | 165,42 feet |
| Length | 181 feet |
| Height | 58,59 feet |
| Cruising speed | 574 miles/hr. |
| Flight reach | 6,214 miles |
| Maximum flight altitude | 41,996 feet |
| Cruising radius | 13h 30min |
| Empty aircraft weight | 251,535 pounds |
| Maximum take-off weight | 565,097 pounds |
| Maximum landing weight | 403,069 pounds |
| Technical crew | 03 (2 pilots, 1 flight engineer) |
| Maximum number of passengers | 380 |
| Maximum number of passengers (VARIG's configuration) | 256 |
| Maximum capacity of fuel tank | 30,516 gallons |
| Normal consumption | 2,320 gallons/hr. |
| Maximum cargo capacity | 100,817 pounds |
| Minimum runway length | 10,499 feet |
| Minimum landing strip length | 5,971 feet |